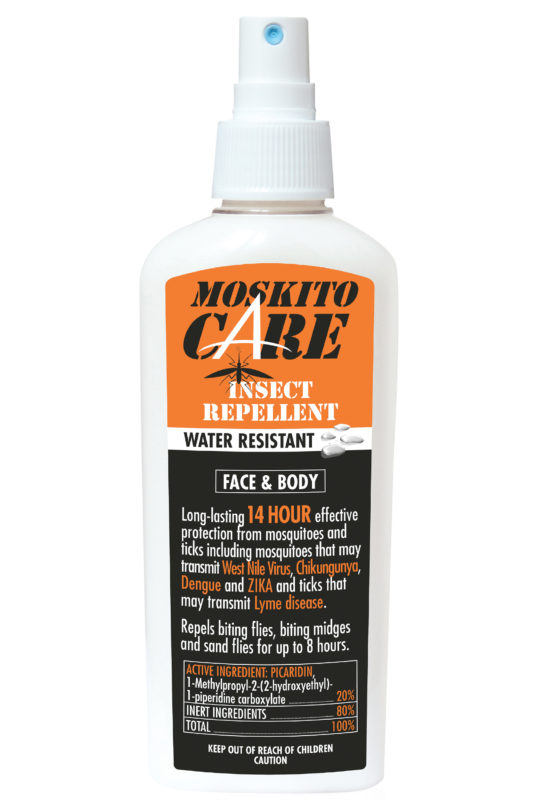 Moskito Care Bonus Pack (2 – 4 ounce Bottles)
---
Moskito Care is pleased to bring you an incredible insect repellent. Made with the active ingredient, Picaridin, our formulation is non-greasy, skin-friendly and has a pleasant odor.  Moskito Care's unique formulation is also skin-friendly and safe to use on infants, children and people of all ages including pregnant women.
Moskito Care Insect Repellent offers long-lasting, 14 hour protection against ticks and mosquitoes that may transmit Chikungunya, West Nile Virus, Dengue, Zika and Lyme disease. It isn't just for mosquito and tick protection; it works well against bites from No-see-ums, biting midges, horse flies, deer flies, stable flies, blackflies and fleas.
Moskito Care is a water-based, lotion spray formulation. It is gentle on skin because it contains moisturizing ingredients with a pleasant fragrance.
Protect your family's skin when entering the extreme outdoors where mosquitoes and other biting insects are present.
Moskito Care is there for you! Skin-friendly protection, tough on mosquitoes!
What Moskito Care Is Not
Unlike Deet-based products that will damage many types of plastics and remove finishes from metal, Moskito Care is a non-plasticizer. An excellent insect repellent choice for hunters for this very reason.
Additionally, Moskito Care Insect Repellent is non-flammable. Unike many other insect repellent products on the market our formulation is made without solvents and alcohol.
Attention New York Residents: At this time, we cannot sell into NY state due to pending registration.
Disclaimer: To the extent consistent with applicable law, buyer assumes all responsibility for safety and use not in accordance with the product's EPA-approved label directions.