An Effective Alternative to Deet-Based Insect Repellents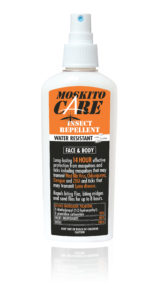 Moskito Care is pleased to bring you an incredible insect repellent. Made with the active ingredient, Picaridin, our formulation is not oily, greasy or sticky and because our product is a water-based emulsion, it will not dry your skin. Moskito Care's unique formulation is also recommended to use on infants, children and people of all ages including pregnant women.
Moskito Care Insect Repellent isn't just for mosquito protection; it works well against bites from No-see-ums, biting midges, horse flies, deer flies, stable flies, blackflies, fleas and ticks.
Moskito Care is a water-based, lotion spray formulation. It is gentle on skin because it contains moisturizing ingredients with a pleasant fragrance.
Protect your family's skin when entering the great outdoors where mosquitoes and other biting insects are present.
Moskito Care is there for you! Skin-friendly protection, tough on mosquitoes!
What Moskito Care Is Not
Unlike Deet-based products that will damage synthetic materials including technical clothing, gear, watch faces and bands, sunglasses and plastic lenses, fishing line and lures, firearm finishes, etc., Moskito Care is a non-plasticizer. An excellent insect repellent choice for hunters, fishermen, hikers, golfers and extreme sports athletes for this very reason.
Additionally, Moskito Care Insect Repellent is non-flammable. Unike many other insect repellent products on the market our formulation is made without solvents and alcohol.
Buy Now... 
Please Note we cannot ship to Puerto Rico at this time. Moskito Care Insect Repellent Is Available At Our Distributor: http://www.superiorangran.com/
Superior Angran - San Juan, PR - Please contact: Jacqueline Angulo 939-397-8005
Use for infants, children and pregnant women
Picaridin won't damage plastics and synthetic materials
Non-greasy, skin-friendly
Pleasant Fragrance, Water-Based formulation
Water Resistant
Long Lasting, 14 Hours of Protection against mosquitoes & ticks
May Be Used by the Entire Family, including pregnant women
Repels mosquitoes and ticks that may transmit Zika, Chikungunya, West Nile, Dengue and Lyme disease
Also repels stable flies, black flies, gnats, chiggers, biting midges, and sand flies for up to 8 hours
Non-flammable