Moskito Care Insect Repellent Is a Great Option for Military Personnel
The Moskito Care Team was present at the Association for the US Army Convention in Washington D.C. from October 9th to October 11th. We were proud to have our new generation insect repellent, a great option for military personnel, on display at the France Pavilion, supported by Marc Esculier, CEO, and Katia Bartosik, Administrative Assistant. It was a great honor for us to be in the presence of the men and women who keep America safe.
Moskito Care Insect Repellent was well-received by the many soldiers and civilian agencies we spoke with and sampled. Moskito Care Insect Repellent is a great option for military personnel. We provided over 500 samples of Moskito Care to uniformed service men and women, who all had a great interest in a DEET-Free insect repellent alternative for themselves, their troops and their families.
While the showroom floor was filled with many of the most modern military technologies from tanks to helicopters, and every other weapon available to the combat environment, the soldiers showed a great deal of interest in protection from mosquitoes and other blood seeking pests that they continue to face in the field, at their base, and at home. Insect borne diseases are responsible for more military causalities than are bombs and bullets, and the soldier's only protection from becoming ill by an insect bite is through the use of an effective insect repellent.
However, all insect repellents are not alike, and many are ineffective in protecting the skin from bites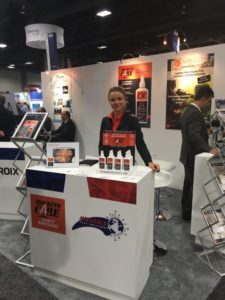 especially in extreme conditions such as our soldiers face routinely. Most of the soldiers we spoke with from the rank of private to general shared the same concerns about insect repellents as do the general consumers. People want an insect repellent that works, that feels good on the skin, that doesn't have a strong or unpleasant odor, that will not destroy or damage technical and synthetic gear, that will hold up in extreme conditions, and one that is recommended for the entire family. Moskito Care Insect Repellentmeets all of those concerns and more:
Moskito Care Insect Repellent is effective against the toughest mosquito species for up to 14 hours. A 14-hour claim is the highest within the industry.
Moskito care works effectively against many other biting pests including ticks (14-h), horse flies, deer flies, no-seeums (biting midges), blackflies, stable flies and chiggers for up to 8 hours.
Moskito Care is a water-based formulation making it skin-friendly without the harsh solvents and alcohols used in competitive repellents, and it doesn't leave the skin feeling stick or greasy.
Moskito Care has a light pleasant fragrance that won't overpower the user or people nearby.
DEET-based repellents are known to damage or destroy expensive synthetic and plastics materials. Moskito Care is DEET-Free and solvent-free, so there are no issues with plastics and syntheticmaterials. Additionally, Moskito Care is non-flammable unlike most other brands.
Moskito Care is formulated to provide skin protection from bites even in extreme conditions including the tropics, and it is water repellant too.
Moskito Care is recommended for the entire family including infants, children of all ages, and expecting mothers.
So no matter the place, no matter the conditions, Moskito Care Insect Repellent is the number one choice for skin protection against a wide variety of biting pests.
Care for Your Skin. Tough on Mosquitoes! Click here to buy yours today!